IBM Design
---
Product Designer, Facilitator, and UX Designer

My role at IBM Design in Austin, TX was often multifaceted. I came from a background in illustration, branding, UI and layout, but within the first day of walking in the door at IBM I was immersed into UX design and design systems. I got to work with FEDs, Design Researchers, Offering Managers, and other User Experience Designers from all over the world. I loved it. After rotating through my initial bootcamp projects, I was picked to work in a very small team with Distinguished Designer Adam Cutler to design the best practices for cognitive design at IBM. Leading up to joining Adam's team, I had a number of projects I worked on that had a profound effect on the way I approached the challenge of Cognitive Design at IBM.




Maelstrom Program
---
1 week micro-project | Fall 2016

Maelstrom is a 10 week immersive design internship program at IBM. Our Maelstrom team was tasked with developing a new way of representing the Maelstrom internship experience, along with providing new interns the tools to hit the ground running. I created a starter pack that included branding guidelines, an iconography set, a starter book, presentation deck templates, and new branding for the individual seasonal sessions.

The way I approached the project was as if I were the one who was receiving the pack, and by the end of the project I wished I had recieved it when I joined. This not only helped our team understand our own roles within the program, but it helped future Maelstrom designers hit the ground running when they arrived. The following cohorts of Maelstrom classes were able to tackle bigger and better projects, all without worrying about onboarding concerns and day 1 issues.


Takeaway - Setting up future designers for success is always worth your time.


Career Compass
---
6 week Incubator | Winter 2017

In correspondence with the launch of IBM's badging system at the time, our team built off a previous intern team's work to create a platform where designers could interact with a corporate wide badging system. Here, both internal and external designers could find online skill badges that they could potentially earn. These digital points of pride can be displayed on numerous online profiles to help designers promote and market themselves.
The website, branding and marketing materials were developed in an AGILE framework 2-week sprint schedule. The biggest difficulty with any project of this size is ensuring that everyone stays aligned when dealing with so many different certifications and subjects.
We found that reaching out to design professionals within the company, including those at the top of their fields, helped us design more accurately.
They told us where we were getting things both right and wrong, therefore speeding up the development process. This was crucial, as our team only had a number of weeks to develop this project from scratch. I designed the visual direction, web execution, and branding for the project.
Takeaway - Leverage the smart people around you.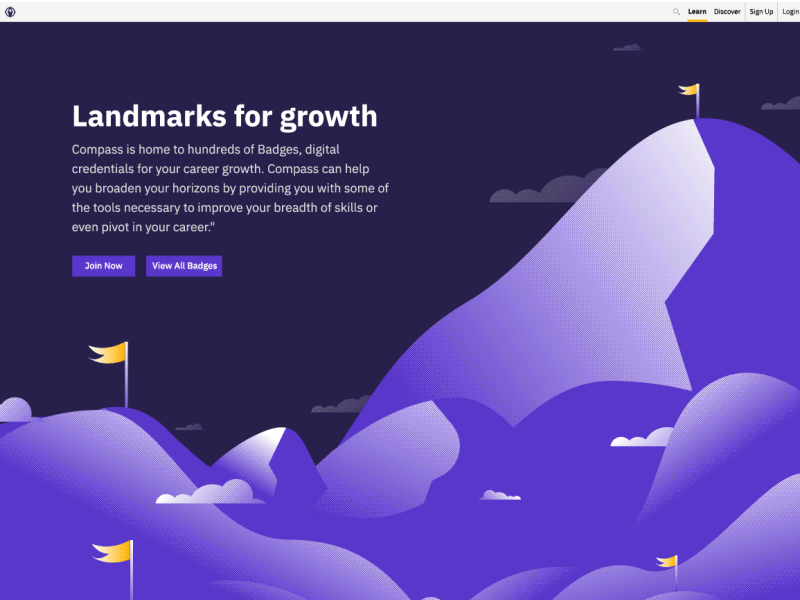 IBM Q
---
10 week Incubator | Winter 2017

Our mission was to brainstorm an immersive experience that would excite & inform high school students about the future of Quantum computing and demonstrate IBM's commitment to educating & inspiring the public in the field. Quantum Computing is a very complex topic, but its one that could have huge effects on our future technology. I worked hand-in-hand with teenagers from across the globe to iterate and develop IBM Q's interactive learning platform and its marketing.

Because of the nature of Quantum Computing, it was very hard to find someone to explain it to us in a way that made sense. I spent just as much time developing our platform as I did trying to wrap my head around Quantum itself. When I finally had a grasp on the content, nearly at the end of our project cycle, I found the designing process to be much more effective. Our final presentation was met with nods as opposed to heads shaking in confusion. Because I invested in understanding our domain, it paid off in how I could express it to others.


Takeaway - Explaining something very complicated in a very simple way is very hard, and it takes time.
IDT (IBM Design Thinking) Cognitive Team

IBM Design Core Team | Spring 2017-Spring 2018
---

Team Members
Adam Cutler - Distinguished Designer
Lawrence Humphrey - Front End Developer
Milena Pribic - UX Designer
Zack Causey - Visual/UX Designer


How do you empower and educate designers within IBM to create AI Experiences that are based in practical and ethical design standards?

This was the problem I was presented with on day 1 by my boss and mentor, Adam Cutler, when I joined the Cognitive Design team. After my previously varied projects within IBM, I was now responsible for helping designers and teams better work with IBM software, their business units, and provide a level of subject matter expertise. Suddenly my job role wasn't just being a strong designer, but an informed and knowledgeable design leader and subject matter expert. At this point my job role incorporated more information design and design system development.

I was developing what it means to design for AI systems including machine learning, AI user interface design, and conversational user experience design. I facilitated and shared best practices to empower designers to create powerful AI experiences. The lessons I learned in those initial projects came back to directly influence the projects I was now tackling with the IBM Design Thinking (IDT) Cognitive team.

Because I was involved in so much, I willl briefly cover the various projects I was attached to. These projects contain a large amount of information, but for clarity and to be as brief as possible, I will provide brief summaries of them.



IDT Cognitive - AI Design Guides
---

Our team authored abridged walkthroughs for how to get up to speed on AI Design, Watson Knowledge Studio, Watson Discovery Service, and Watson Conversation. These walk-throughs represent all of the most pertinent information that we found in the documentation, instructional videos, forums, tribal knowledge, and trial and error.

Upon releasing the guides, we had multiple thousand views and multiple hundred downloads within the initial launch, with designers from across the company and across the globe contacting us with kind words and useful feedback. Those guides continue to be passed around IBM and product teams have been utilizing the guidance to improve their own processes.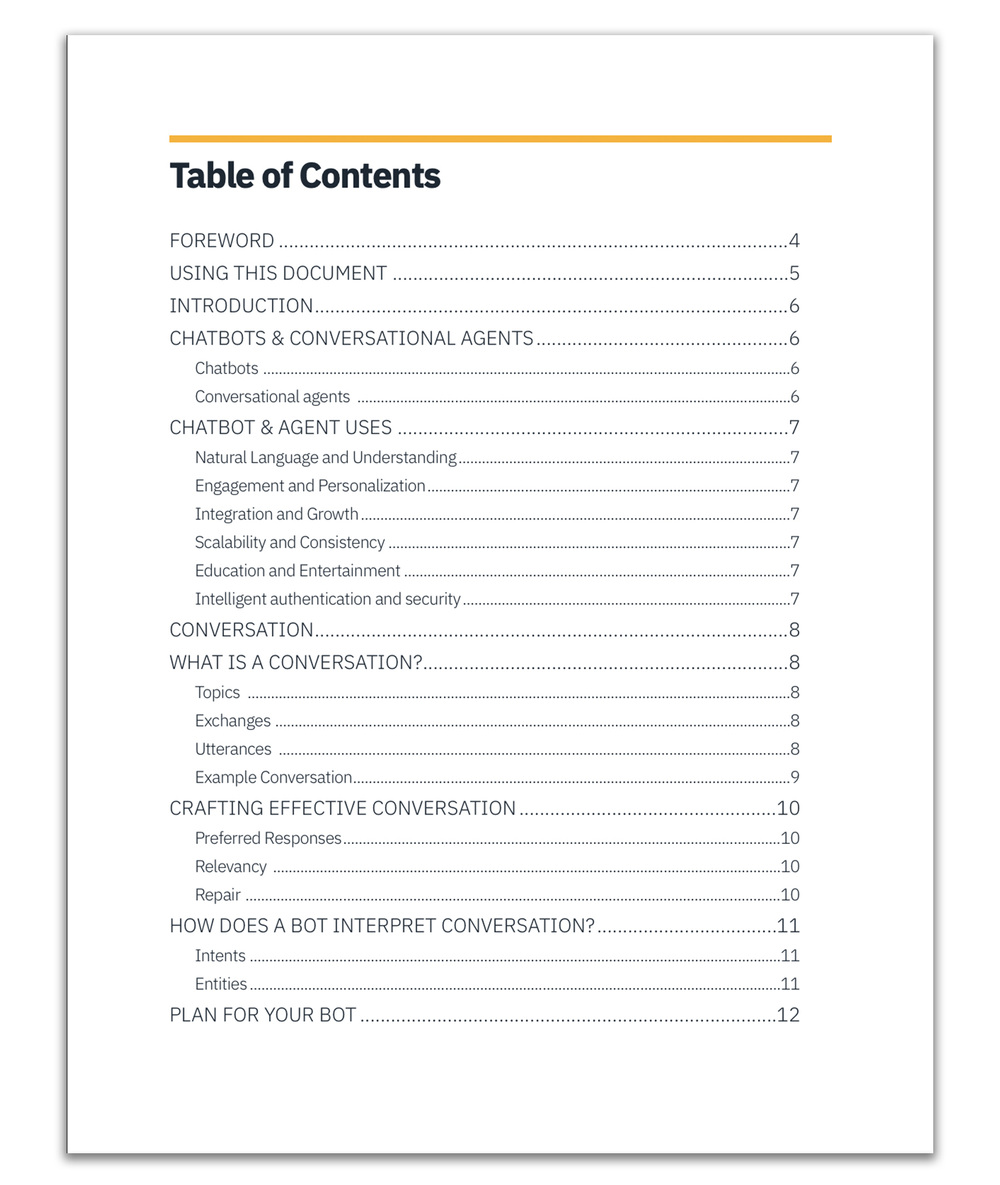 I was in a constant state of iteration when it came to this content. Upon researching more about the subjects, talking to experts, and showing the material to other designers at IBM, I began to understand how best to approach the subject of designing for artifical intelligence. I started with IBM's core AI principles.
IBM AI Principles
Augment human intelligence, not replace it
Maximize human confidence through transparency
Have the skills and knowledge to engage in relationship with humans
AI Must Be capable of
Understanding
Reasoning
Learning
From there, I worked with Adam to build out material that eventually led to our actual interaction with AI. We utilized a model based on human relationship. It was centered around the idea of relationships and how they are formed. We used a model by native Austin and college professor, Mark Knapp. He theorized there is a set way that we as humans initially meet each other and form bonds over time. We used this as a foundation to build on, always keeping the human experience in mind when designing for AI.
We developed a huge amount of content that helps designers get started with designing with AI. What I took away from all of this is that it is TOUGH to take such a huge amount of information and distill it to a point where its digestible. The way I always thought of myself was as a funnel, taking in lots of info and refining it into something actionable and helpful. This has pros and cons, namely being that a larger group of people will be able to interact with the information, but those looking to get really in the weeds with the subject matter will have to research past just our material. But that goes back to who are demographic was—we were trying to reach out to as many designers as possible.


Takeaway - Explaining something very complicated in a very simple way is very hard, but it's worth it and has impact.
IDT Cognitive - Conversational Design
---

As part of the Conversational Design portion of the design guides, I worked on developing the teams Conversational UX principles. This involved a large amount of technical and conversational theory research. I poured through decades of conversation analysis so I could develop principles that designers would find tactical and digestible.
To understand how conversation works, I dove headfirst into research. Through trial-and-error, I developed what I believed to be a solid way to approach systematically replicating conversation. Through the encouragement of my teammates, I also ended up reaching out to more than 50 conversation experts from around the company and organized monthly check-ins and content reviews. These professionals vetted the information I was collecting, contributed their own, and gave extremely useful feedback and connections. Having such a strong network of knowledgeable people ended up being invaluable to not only our team, but also to other teams trying to leverage conversational technology.

The whole basis of my conversational theory centered around what we called Topics, Exchanges and Utterances. These functioned as building blocks towards conversation.

Topics - Provide conversational context.
Exchanges - Communicate information from bother communicating parties.
Utterances - Individual statements that are articulated.
Without getting too far into intense conversational theory, I was able to take this info and make it actionable for teams looking to build chatbots or work with conversational technology. This largely centered around an initial educating around conversational principles, then questions and guidance towards planning out a conversational structure for a bot.
The entire conversational guide lived as a piece of the AI Design guides that our team published. I never would have been able to develop any of this content without the help of all the extremely smart people from around the company. When I thought I was stuck, all it took was reaching out to other IBMers. It not only helped me, but made the content more useful for designers aorund the company.


Takeaway - Leverage the smart people around you, because they make you smarter and better suited to help others.
IDT Cognitive - Cognitive Camps
---
I also worked to develop design thinking exercises and facilitation techniques to assist teams in implementing cognitive solutions into their products. These started off as 2-3 day camps that consist of design, development, and AI theory. The objective of these camps was to get teams working on a cognitive solution as soon as possible. Because we were only a team of 3, we worked with a large amount of talent inside and outside of the company to help our cause.
I also assisted in creating our Human-Machine Relationship Model, which became our way to represent the interaction patterns of a working cognitive system to those people. This also became the crutch of our facilitation efforts and our vehicle to communicate how we grow with the machines we interact with.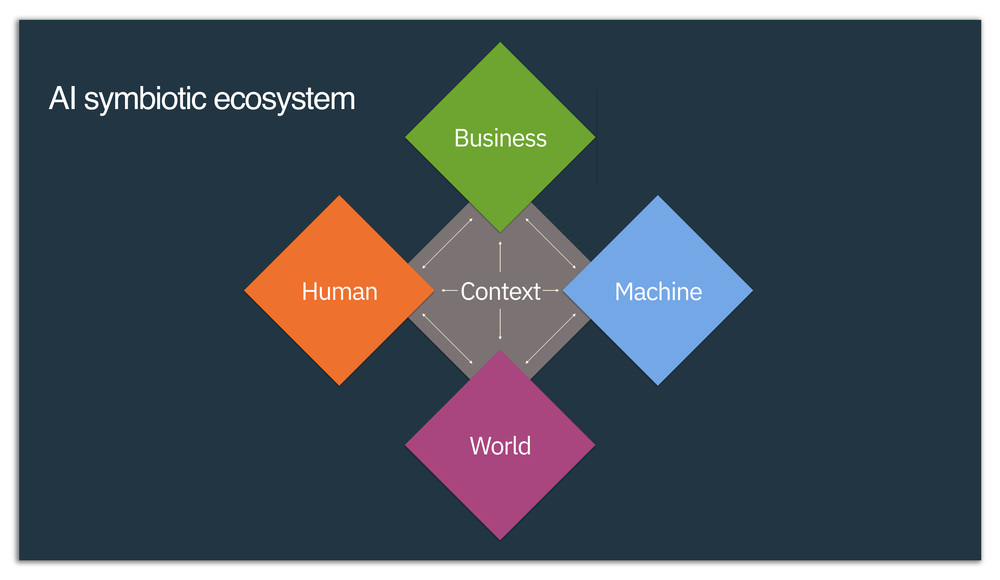 Often, we would have teams approach us when they were making the transition into a new offering or to explore potential AI ideas for an offering that existed already. Since these camps were largely exploratory, the teams walked away, sometimes within a matter of hours, with plenty of information and ideas to work on. Even if the teams never utilize any cognitive technology, they at least had the opportunity to be exposed to new ways of approaching these types of problems. These camps have evolved passed just the Cognitive Design team at this point, and are now organized at a larger scale.



Takeaway - Setting up future designers for success is always worth your time and is a great way to design at scale.
Closing Thoughts
---

Overall, I think the experiences and lessons I learned working on these projects at IBM taught me that communication is absolutely key to designing anything. Whether that be a conversation, user interfaces, a logo, etc. If you can find the methods and mediums that best facilitate understanding between yourself and your users, you are designing in the best possible situation. In our modern world of daily-evolving technology, that has become extremely important. I also learned the value of not thinking of myself as one specific type of designer, but as someone who will figure out how to tackle whatever problem is put in front of me. Much of this information I was a not at all familiar with prior to working on it, so it took just jumping in and working through the mental blocks.