imethods
---
Brand Designer



Team Members
Adjective & Co
Zack Causey


What happens when a new technology system is implemented into a hospital? How do the already extremely busy healthcare professionals find time aside from helping patients to learn how to operate these systems? Its simple, you get someone to come and give them a little help of their own.


Enter, imethods. imethods provides expert heathcare IT staffing/consulting for hospitals and hospital networks. They provide more than just great tech expertise, they create interpersonal connections between hospital IT/HR leadership and consultants. Everything is very personal - they have even been known to accompany new staffers into their first day on the job at a new hospital.

imethods didn't feel the their current brand was accurate to their messaging. They felt that the more simple visual execution of their collateral and site needed to have more life and be transformed into something more modern and interesting. They asked for a brand identity evolution, logo refresh, brand guidelines, and a web styling refresh.




imethods goals
1. Elevate brand perception to reflect the quality of their business and unique culture
2. Increase positive customer outcomes to regain 90% SPR average rating
3. Expand nationally by establishing a pipeline to deliver 12+ health systems per year
4. Achieve $20 million in revenue by 2020

In order to accomplish these things for imethods we established a positioning statement and 3 guiding focus areas. These would help us point the brand in the right direction and make sure we are staying true to how imethods wanted to portray themselves.


Positioning Statement - imethods creates interpersonal connections that deliver transformational outcomes for everyone.

MEANINGFUL WORK- They are driven by a set of strong values and a promise that ensures they place staff that execute expert healthcare IT and fit well into the culture of the hospital in which they are placed.
HEALTHCARE IT FOCUS - Their larger competitors offer IT staffing for multiple industries, their main two similarly sized competitors provide just Healthcare IT. There is a range of brand personalities ranging from technical and transactional to approachable and personal. iMethods is the ONLY company to deliver hyper-focused Healthcare IT in an approachable and personal way.
REPUTATION: They have a reputation for being experienced and trustworthy. They have a strong track record with a number of well known hospitals. Their previous clients are "fans/champions".

Upon researching imethod's process, we found that they really dive into the culture of the hospital and match that with the the personality/passion/drive of the individual contractor to make the connection. CIO's they've worked with sing their praises and are "fans" and "champions" of imethods. They make the CIOs/Administrators and the hospitals' internal teams the heroes for their organizations. The brand needed to reflect that.

We originally tried a much more modular system. This had different colors representing different aspects of the business. As we worked through this direction, we started to realized that the angular shapes we were working with came across as too cold and unapproachable. Since this business was all about the human connection they made with their clients, and the inherent human grounded field of healthcare, we needed to vary it up.

We also realized that since imethods is a catalyst in the relationship between hospital and IT specialist, there needed to be more visual indication of "overlap". So we took some small aspect of what we explored here and moved forward to something more accurate to the brand. Instead of such a radical break from the exisitng brand we decided to turn towards more of a curved, humanist evolution that was a more natural evolution to their exisiting brand, since this was a brand refresh assignment.

Logo Direction
---
Brand System
---
Stationery
---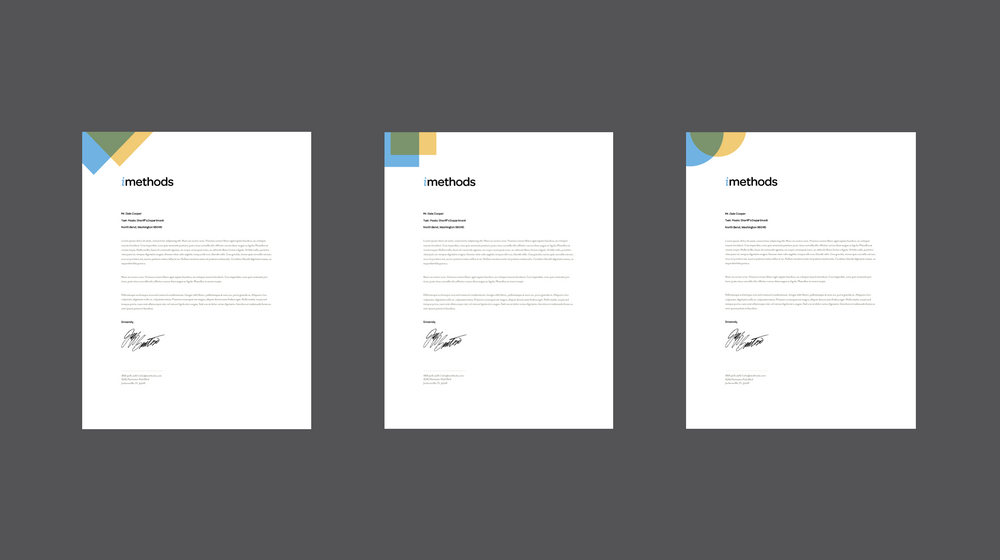 ---